The primary purpose of the Adventist Encounter Curriculum
The primary purpose of the Adventist Encounter Curriculum is for our students to have a solid, deep, and personal knowledge of the truths of the Bible (Seventh-day Adventist fundamental beliefs); to respond to Christ's invitation to live in a lifelong, vibrant relationship with Him; and be passionate about the salvation of others..
As Ellen White shares, "Never has there been a time when man has been so responsible to God as he is at the present hour. Never has there been a time when man's position has been so critical as it is now. All things in nature and in the world at large are charged with intense earnestness."
The Remnant Church: Its Organization, Authority, Unity, and Triumph. Elmshaven Office, p. 50.
Never in our world's history has there been a greater time to make this the focus of our young people in the Seventh-day Adventist church.
In response to this call, the Adventist Encounter Curriculum is a seamless curriculum that is intentional about exploring big-picture, biblical concepts with the goal of making a difference for eternity. This curriculum uses the four walls of the classroom to help build a life-long relationship with Jesus Christ, using the Bible as the source of truth. Through rigorous pedagogical practice, it seeks to develop each students' personal walk with God and reasons for faith, lifestyle choices, and ethical decision-making from an Adventist worldview, all the while nurturing interpersonal relationships and service to others. In short, it seeks to invite our students to be disciples of the Great Commission.
Transformation is the goal of the Adventist Encounter Curriculum. Using Pastor Ben Maxson's Spiritual Growth Model, and Lanelle Cobbin's Transformational Planning Framework, the Adventist Encounter Curriculum supports teachers through a series of learning activities, where students use their Bibles as the foundation to know about God's plan for their lives and the world, and are provided opportunities to develop a relationship with God. They are then able to put their beliefs into practice in their own lives through sharing their faith and serving others.
Ultimately, Encounter seeks to obey the Three Angel's Message of Revelation 14—a call for people to stand in these last days in a real relationship with God, to be aroused from their apathy and worship our Creator alone.
Encounter seeks to build for eternity.
It is impossible to move from being a Slave to become a Partner Friend. We must first be reborn again, through the process of justification, and become like a Child first. Then, through the process of sanctification, we become a Partner Friend.
Rather than producing Slaves or Children in our students, the goal of the Adventist Encounter Curriculum is for students to live in a Partnership/Friendship with Christ. This curriculum seeks to build solid "performance" (knowledge in the Bible) as well as a living, lifelong relationship with the God of the universe.
In response to the Great Commission, our goal is discipleship.
In John 14:6 Jesus shares, "I am the way and the truth and the life. No one comes to the Father except through me." As Bible teachers, we are called to encourage our students to come to Jesus, our only sure Truth in an unstable, changing world.
When we daily surrender our lives, everything changes. Growing in Christ and following Him is our focus in the Bible classroom, where transformation (rather than just information) is our goal.
When struggling with one of these areas, it's helpful to move back a step.
In each grade, students explore Scripture and themes that fall into one or more of the four phases of this model; growing in Christ being the ultimate goal.
All teaching units fulfill one or more of these elements. In some units, students will capture a Vision of the wonderful qualities of God and how utterly amazing He is. Some other units will focus on pictures of what Jesus has done for us in and through the Gospel story. As a result of a loving commitment to Him, others may center on His desire to be Lord of every aspect of our lives. Still other units will focus on the power of His Presence as the source of power in my life that enables me to "will and to do his good pleasure" (Phil 2:13). Out of this, we seek to share Him whenever possible, as we serve others.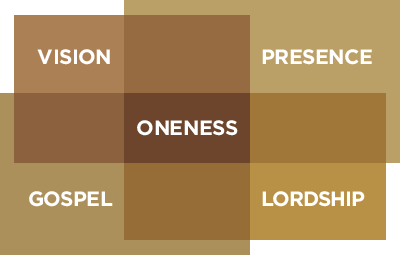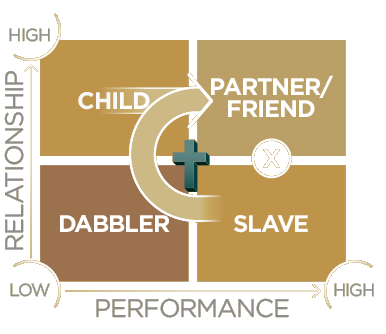 Pastor Ben Maxson shares one model of spiritual growth.
First, we can seek to have a clearer vision of God and His wonderful character, which has been distorted since Eden.
(Jonah 4:2; Micah 7:18; Zeph. 3:17; Rev. 3:20)
Then we can look to the gospel of Jesus—"the visible image of the Father," Col. 1:15—to deepen our understanding of God.
(John 1:18; 14:8,9; Heb. 1:3)
Once we understand and accept what Jesus did for us at the cross (justification), we ask Him to be the Lord of our lives (Lordship), where we submit our lives to Him.
(Acts 10:37; Rom. 10:9)
Finally, when we accept His presence into our lives, we become a living sacrifice for Him.
(Romans 12:1, 2; Gal. 2:20; Eph. 3:17; 2 Cor. 13:5)
Spiritual Growth Model © Ben Maxson.
The four areas of the Lordship model are:
Dabbler · In Pastor Ben Maxson's Lordship Model, a person who is low in performance and relationship is a Dabbler. This person plays with religion and has no real commitment to it. A Biblical example of a Dabbler is the woman at the well before she met Jesus.
Slave · Someone who is high in performance and low in relationship is a Slave. This person is focused on actions and appearances, yet doesn't really know God. A Biblical example of a Slave is Saul of Tarsus, who was driven by performance without a relationship with God, but after meeting Jesus, accepted Him and was transformed.
Child · A person who is low in performance but high in relationship can be spiritually defined as a Child. This person is impulsive, and not very capable, but has room to grow. A Biblical example of a child is Mary Magdalene.
Partner Friend · Finally, a person who is both high in performance and high in relationship can be referred to as a Partner Friend. There are numerous Biblical examples of Partner Friends such as Enoch, Daniel, Moses, Esther and many of the heroes that we aspire to be like.
Four distinctive features have characterized our approach to the Adventist Encounter Curriculum:
1. Theory
Biblical Discipleship
As inferred, we have abandoned a purely "educationally cognitive" approach to Scripture, and embraced biblical discipleship in response to the Great Commission. We seek to touch the heart as well as the mind. We believe this will establish an important pattern for life-long spiritual growth and devotion.
2. Content
Topics
The Encounter Curriculum focuses on the truths of the Bible in all of its units. All units relate to the Personhood of God—for Scripture testifies of Him. Acknowledging the importance of meaning and context in the learning process, all teaching units have a central biblical narrative focus and are thematically linked to help build students' faith.
3. Methodology
CREATIVITY AND
HIGHER ORDER THINKING
One feature of the Encounter Curriculum is the manner in which it pursues with more rigor than we perhaps have in the past, what Ellen White exhorted us to do decades ago: "to train thinkers and not mere reflectors of other men's thoughts." Education, p17
In light of this, we have moved away from a textbook orientation, and provide teaching units and resource materials for teachers that outline a range of learning activities intended to encourage the thinking of each student. The main textbook students will use is their Bible.
4. Assessment
Differentiated Learning
The Encounter Curriculum's focus on process as well as content means that the nature of assessment looks different in the classroom. The teaching units include both formative and summative assessment, since ongoing, visible, lifelong learning from the Bible is the goal. The multiple intelligences are harnessed so that each student is challenged and stretched in their learning environment. The aim of assessment tasks is for students to understand and grapple with the topics explored in class, and to be able to apply, analyze and create personal and practical applications as a result of their learning—the goal of transformation foremost in mind.
We base our pedagogy on encouraging all students to grapple with content in engaging ways. As a result, an inductive approach to Bible study is a recurring feature. Teachers and students make discoveries from the truth of God's Word that can be embraced and lived.
Bible Curriculum
for grades 9-12