Bible Curriculum
for grades 1–12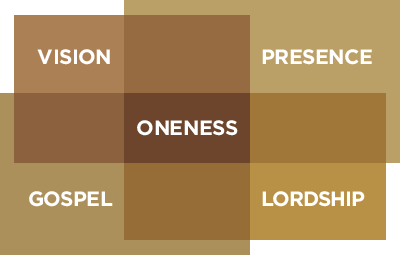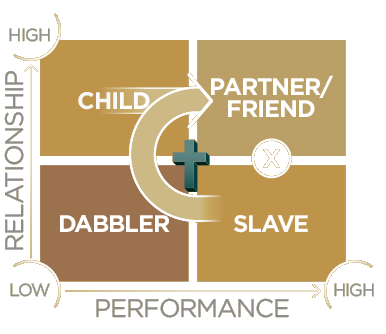 This model is noted in each Encounter teaching unit.
First, we can seek to have a clearer vision of God and His wonderful character, which has been distorted since Eden.
(Jonah 4:2; Micah 7:18; Zeph. 3:17; Rev. 3:20)
Then we can look to the gospel of Jesus—"the visible image of the Father," Col. 1:15—to deepen our understanding of God.
(John 1:18; 14:8,9; Heb. 1:3)
Once we understand and accept what Jesus did for us at the cross (justification), we ask Him to be the Lord of our lives (Lordship), where we submit our lives to Him.
(Acts 10:37; Rom. 10:9)
Finally, when we accept His presence into our lives, we become a living sacrifice for Him.
(Romans 12:1, 2; Gal. 2:20; Eph. 3:17; 2 Cor. 13:5)
Spiritual Growth Model © Ben Maxson.
Pastor Ben Maxson's Lordship model focuses in on this quadrant from the former model which can help to further clarify growth within this phase.
Dabbler · A person who is low in performance and relationship is a Dabbler. This person plays with religion and has no real commitment to it. A biblical example of a Dabbler is the woman at the well before she met Jesus.
Slave · Someone who is high in performance and low in relationship is a Slave. This person is focused on actions and appearances, yet doesn't really know God. A Biblical example of a Slave is Saul of Tarsus, who was driven by performance without a relationship with God, but after meeting Jesus, accepted Him and was transformed.
Child · A person who is low in performance but high in relationship can be spiritually defined as a Child. This person is impulsive, and not very capable, but has room to grow. A Biblical example of a child is Mary Magdalene.
Partner-Friend · Finally, a person who is both high in performance and high in relationship can be referred to as a Partner-Friend. There are numerous Biblical examples of Partner-Friends such as Enoch, Daniel, Moses, Esther and many of the heroes that we aspire to be like.